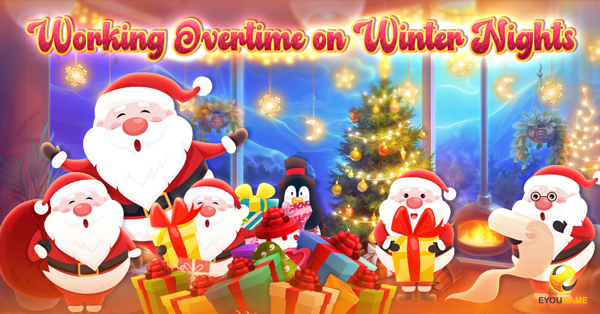 #Lightchaser #WheresThePresents After Santa dropped his presents, he has no choice but to do it all over again, having the thought that the presents will remain missing.
Santa gathered his fellow workers in the gift factory for preparing another batch of presents for the lucky ones who has not receive their piece yet. You can help them too by commenting on this post! They all love to hear about everyone's opinion on December and Christmas things!!
Everyone's comment can become their motivation to prepare the presents.
You may stand a chance to win some prizes for supporting them! (including the people who has chosen to keep the presents for themselves :D) Comment Template: 1. Character Name: 2. Server Number: 3. Region: NA/AP/EU 4. Opinion about Christmas: Event Period: 9th December 2022 - 12th December 2022 14.00 UTC+8 UTC+8 Event Rewards: 8 Participation Prizes Conditions: 1. We reserve the right to amend any of its rules and regulations without any prior notice, and these amendments are deemed final should any dispute arise. 2. Any sexual, violent, religious, and/or political-related content will be considered a rule violation and will result in disqualification. 3. We reserve the right to blacklist any participant who leaves any hateful or offensive comments. 4. Hateful speeches, demoralizing comments, etc., are strictly prohibited. Violators of such will be disqualified. 5. For those who have changed their IGN during the event, please update it in your comment. Failed compliance will result in disqualification. 6. Multiple entries from the same participant might lead to disqualification. --------------------------------------------------------------------------- Follow us to get news and updates; Game Download Link: https://eyou.io/lc Official Website: https://lightchaser.eyougame.com/ Player Community (OFFICIAL GROUP): https://www.facebook.com/groups/EyouLightchaser Eyougame support mail: https://www.eyougame.com/v2/contact/ Eyougame Official Facebook: https://www.facebook.com/eyougame/ Eyou youtube: https://eyou.io/eyoutube Eyou insta: https://eyou.io/eyouinsta Eyou app: https://eyou.io/eyouapp