Spouse Function


The trip of adventure is long and full of obstacles. Being alone on this road might be a bit too lonely. Don't worry, the spouse function provides you a platform to make friends and also find your lifelong companion to keep you company along the way. Now let's see the spouse function together!


【Friend Hall】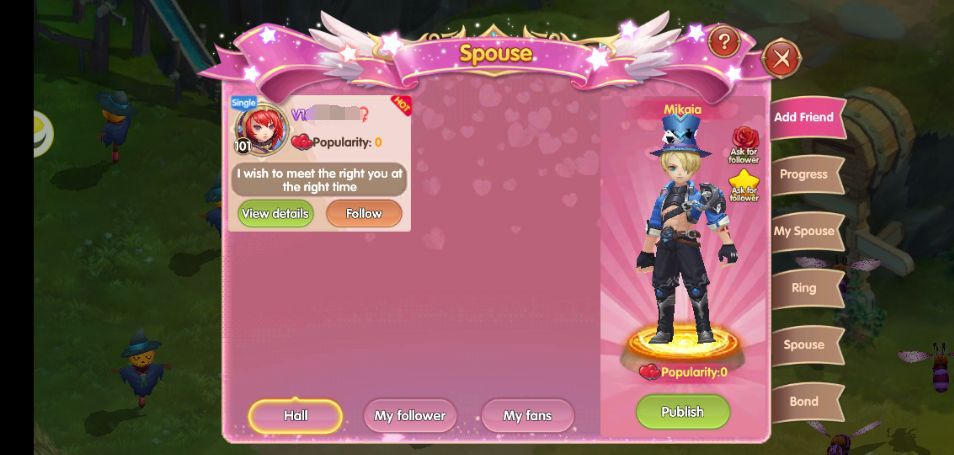 Spouse function will be unlocked when a player reaches Lv. 60. Then the role of Friend Hall will be indispensable at this time. All dating profiles will be posted here where you can look for your destined one. You can post your profile on Friend Hall so that everyone else who opens it can see you as well as send it to the world channel gaining more attention.

【Add friend】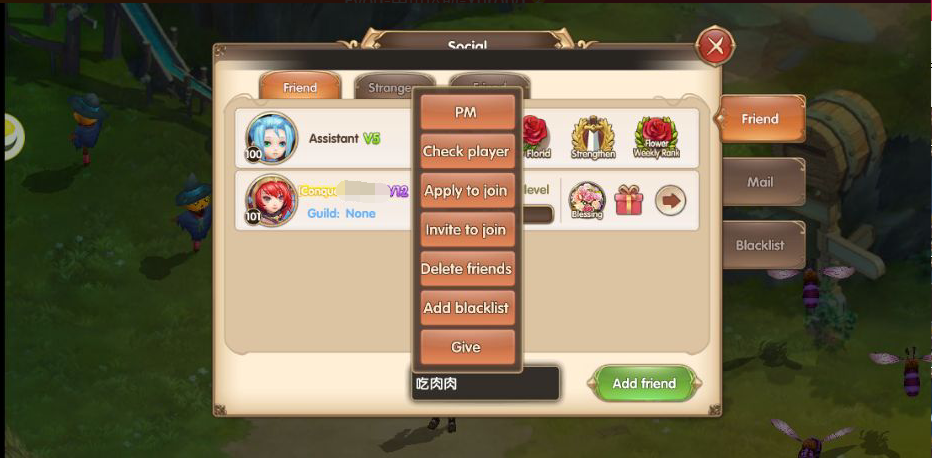 You can make friends and develop a relationship with him/her. Give them flower, invite them to play dungeon and kill the world boss together. When the relationship between you two becomes intimate, and then it's time for you to act.

【Confession】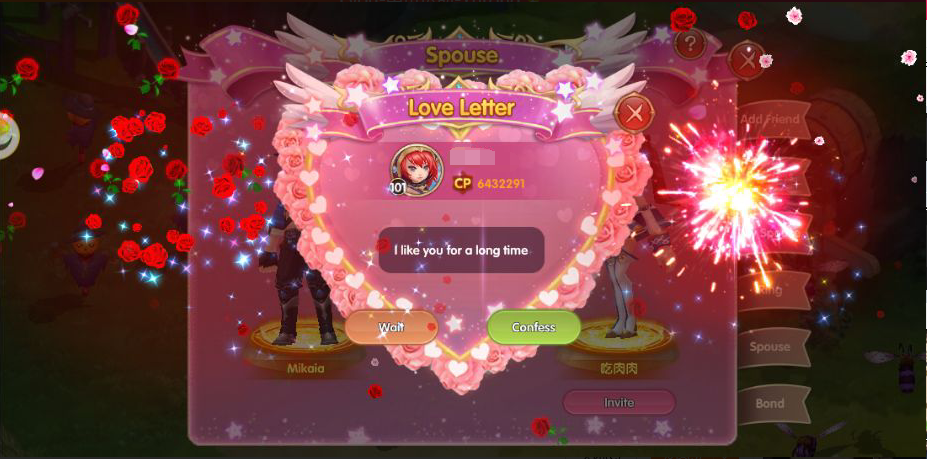 When you think that the time is ripe and you are confident, you can now confess to him/her. If your confession is accepted, congratulations, you are formally in a relationship. Sometimes things might not go the way we think, but you shouldn't give up. Work hard, you will succeed in one day!

【Proposal】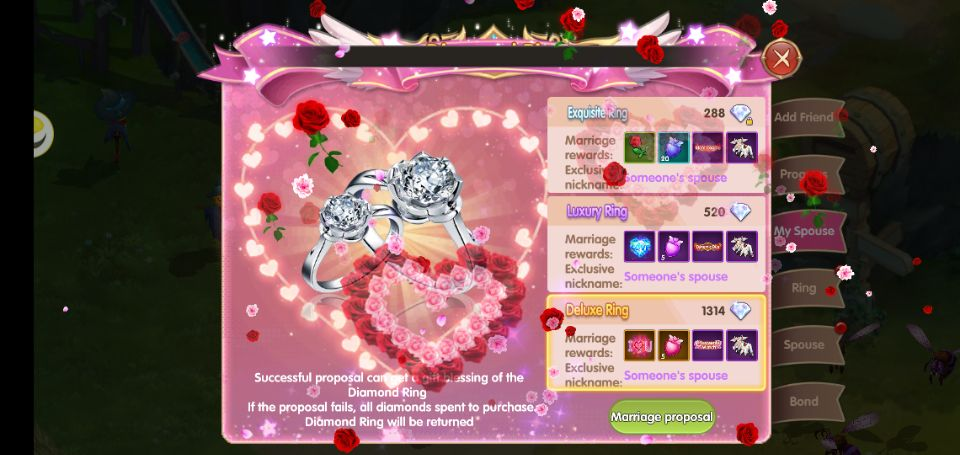 Marriage is the distillation of love. When the time comes, you can buy a ring and propose to him/her. It should be noted that diamonds of different cost will bring different rewards. If the proposal is successful, gift blessing will be given. If not, the consumed diamonds will be returned.

【Wedding Banquet】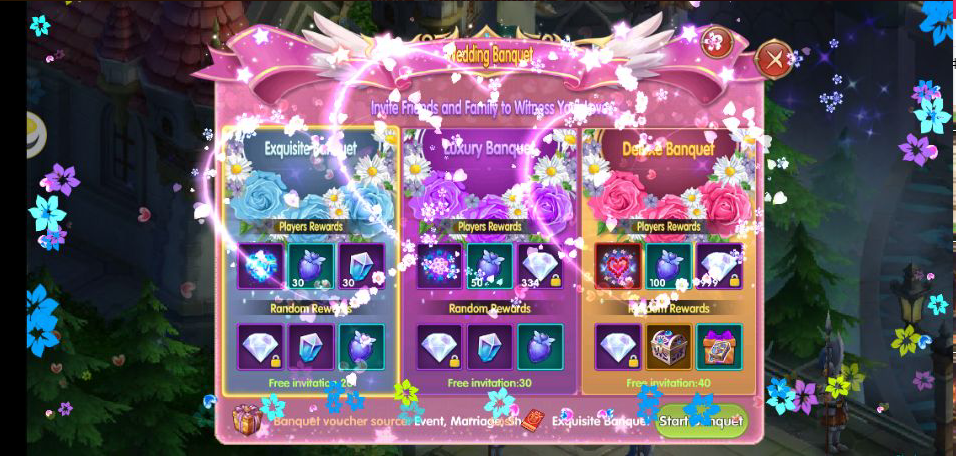 After the proposal, you can hold a banquet and invite your relatives and friends to witness this memorable moment of yours. There're 3 types of banquet with different rewards for you to choose from. After you purchase the banquet voucher and seek agreement with your spouse, you can set about the banquet and send out invitation cards.

After the banquet starts, everyone can let off fireworks and give flower as a blessing to the newlyweds while the groom and bride can also give out wedding candy to the attendants.


【Couple Dungeon】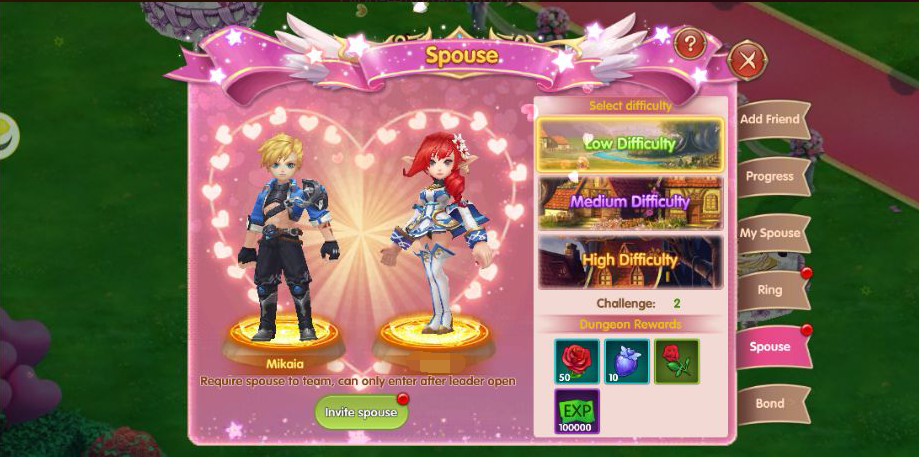 What's worth mentioning is the spouse dungeon which can be challenged 3 times day. Just as its name implies, it's a dungeon you go as a couple. Love points, romance fruit and flower will be given as rewards after you complete it.

【Wedding Ring and Bond】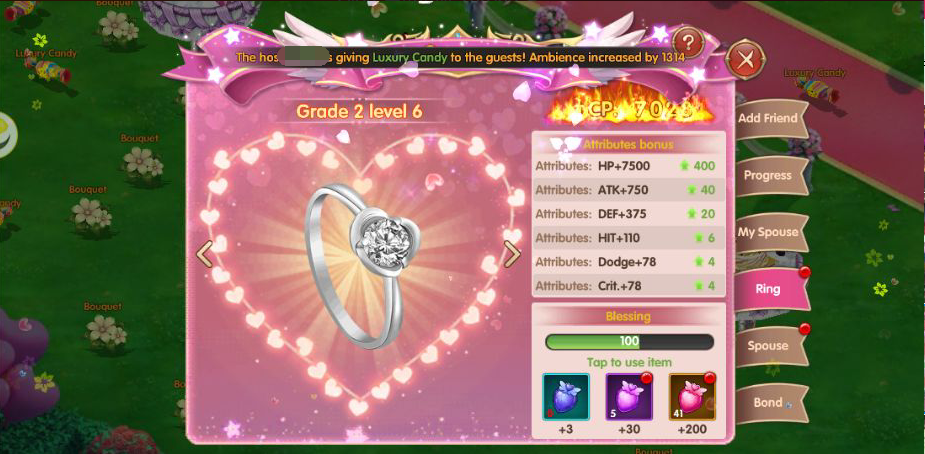 With the growing of love, the wedding ring has become more and more brighter. Wedding ring can be cultivated with the fruit gained from the spouse dungeon in order to improve its attributes and increase CP.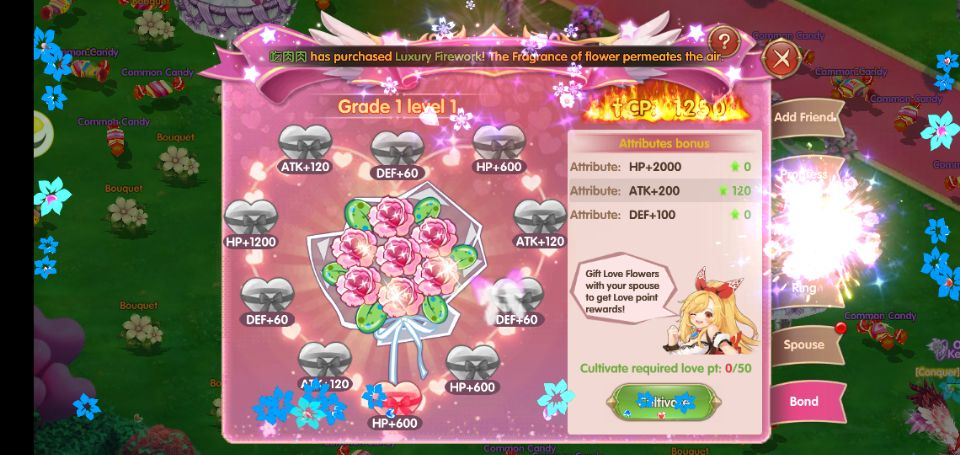 Love point gained from completing dungeon and giving flower can be used to increase the bonding between a couple. Increase of bonding will bring increase of attribute, so don't forget to challenge the dungeon with your spouse. And the flower giving is absolutely necessary every day.


【Divorce and Break-up】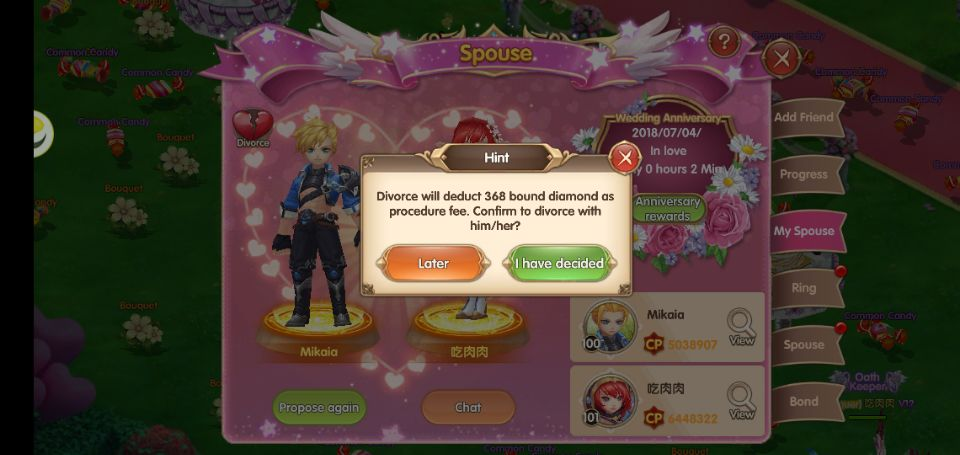 Some love can last while some can't. Love is the thing you can't force. If you're not married, the decision of break-up and starting anew is totally understandable. Once you get married, it means you are committed to each other. Then you will have to pay a price for choosing divorce. Think twice before you act.
Above is the introduction of spouse system. Fate brought us together. Get into the game and look your destined one now!